Mizno MP-18 MMC Fli-Hi
view other products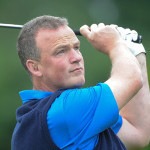 We think a lot of you could benefit from trying this driving type iron, which can be the answer to more consistency off the tee and on long par-3s.
This MP-18 MMC Fli-Hi is much easier than a traditional long iron to launch, while its steeper descent angle will help your shots stop more quickly in firm conditions.
Key features of this Fli-Hi include:

Long iron replacement offers higher flight with steeper landing angle
Thin maraging steel face boosts ball speeds for more distance
Tungsten toe weight aids off-centre forgiveness
Head options from 2-5 iron
If you're looking to fill a gap or find more fairways this could be the club for you, so drop by the store and arrange a test the next time you're at the club.
Alternatively, get in touch here to book a fitting.